Exeter based charity Rainbow Living, has opened a Sensory Room following two years of fundraising by the Golf Captains of Exeter Golf and Country Club in the years 2019/20 and 2020/21. 
Past Golf Captains, Ali Crooks and Pete Bennett started fundraising back in 2019. They chose Rainbow Living as their charity of the year to contribute towards a much-needed Sensory Room for the learning disabled adults living in their accommodation.
Having raised £17,000 towards Rainbow Living's target, the incoming Golf Captains, Rick Pillow and Caroline Harris took over the mantle in 2020. Covid struck, but against the odds, Rick and Caroline still managed to raise a further £12,000. 
With a collective donation of £29,000, Rainbow Living had the green light to go ahead with the Sensory Room plans and started the conversion of a disused garage at their Exeter residential site. 
A new roof, window, door and access ramp were constructed. With insulation, electric wiring and decorating complete, the sensory room equipment could be installed.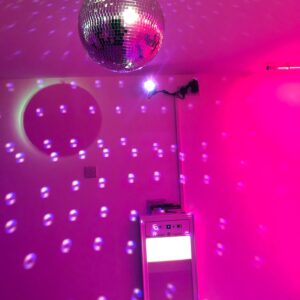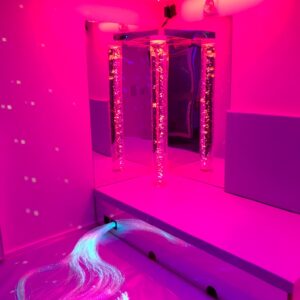 The Sensory Room is a long-awaited addition to the Rainbow Living organisation and one which will improve the health and well-being of the community of adults living in the supported accommodation. 
Janet Raeburn, Rainbow Living, "We are thrilled at how the room has taken shape and our residents are delighted.  The support of the golf members at Exeter Golf and Country Club will make a huge difference to the lives of our tenants for many years to come. Thank you to the past Golf Captains and the members for helping us to make the sensory room a reality!"
Rick Pillow, past Golf Captain said, "It is so gratifying to learn how valuable our golf members contributions were, along with those from Pete and Ali's of the previous year. I speak for all four of us and the Golf Membership in that we are thrilled to have been able to contribute in so many different ways to have raised such funds for the future well being and happiness of those within Rainbow Living and the houses that they now have. It is monies very well spent and can be seen used within our local area."
Find out more about Rainbow Living.