The perfect weekend dinner date
A relaxed ambiance, stylish surroundings and exquisite food are on the menu for dinner at Wear Park Restaurant every Friday and Saturday evening.
If you're looking for a restaurant outside of the city centre, where you can park nearby, and focus on the good food and company, Wear Park is in the perfect spot between Exeter and Topsham. With exceptional food, ranging from traditional classics like fish and chips and succulent steaks, through to contemporary dishes that touch on the fine dining, Wear Park Restaurant offers tastes for every palate and every occasion. 
As well as the seasonal a la carte menu, there's always an exciting dish of the day and fish of the day to discover. 
Housed within the Georgian grandeur of Wear Park, the restaurant is brimming with original features and full of character, while the crystal chandeliers and grand fireplaces offer sumptuous charm, the stylish, calming muted-pink walls of the restaurant offer a soothing atmosphere to relax with a glass of wine at the end of a long week.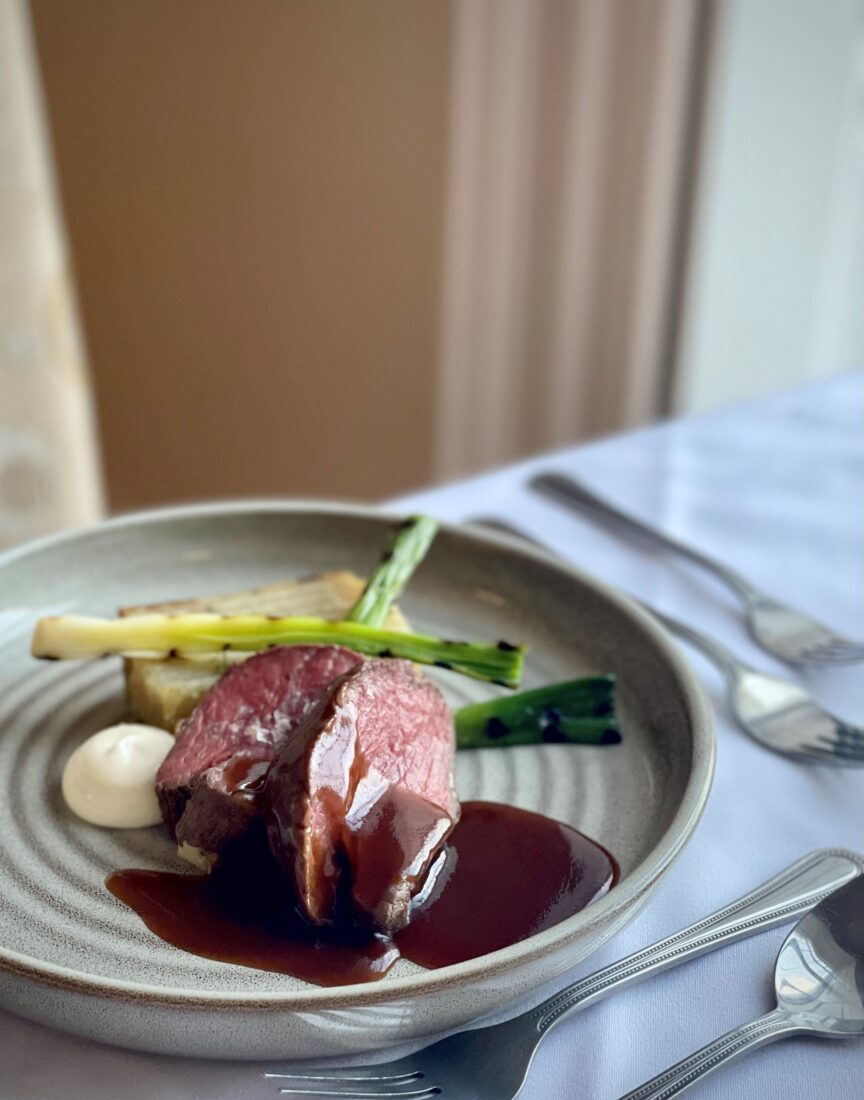 A seasonal a la carte menu sits alongside the ever-changing dish of the day which can range from rump of Devon lamb to Brixham bass, Holsworthy pork or South Devon scallops. 
Head Chef, Adam Austin-Little selects the best cuts of meat and the freshest fish to create exciting dishes throughout the changing seasons.
Wear Park Restaurant is open until 10pm on Fridays and Saturdays, with last food orders at 9pm.
Drinks for every occasion
Perfect for pre-dinner drinks, a cosy nightcap or even sundowners on the terrace outside, the bar in Wear Park Restaurant has an extensive Wine and Spirits list with a wide selection of gins and rums from the South West, along with local beers and soft drinks from Luscombes and more.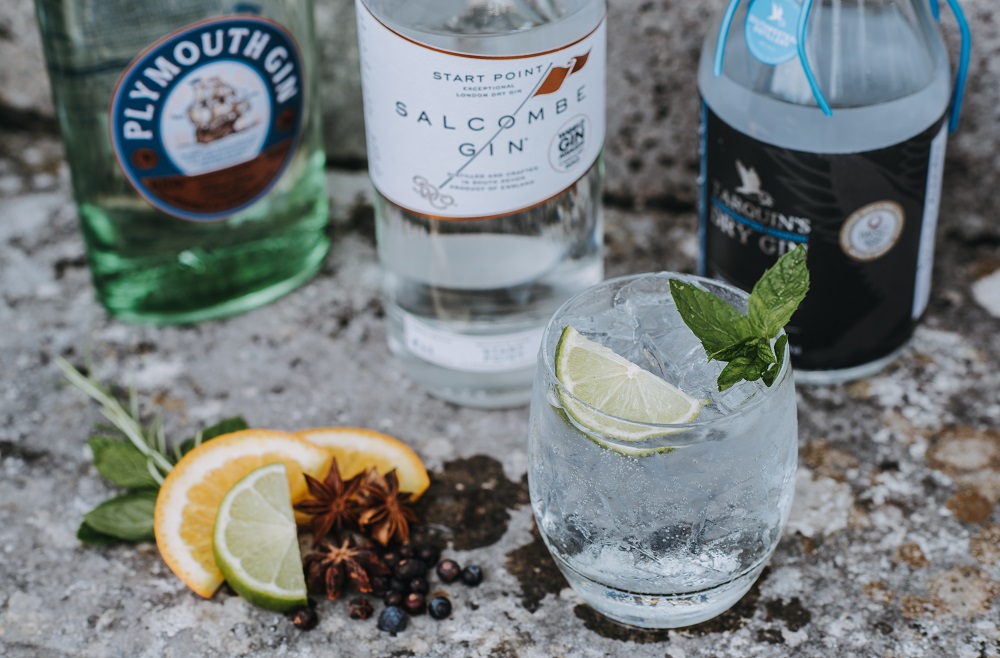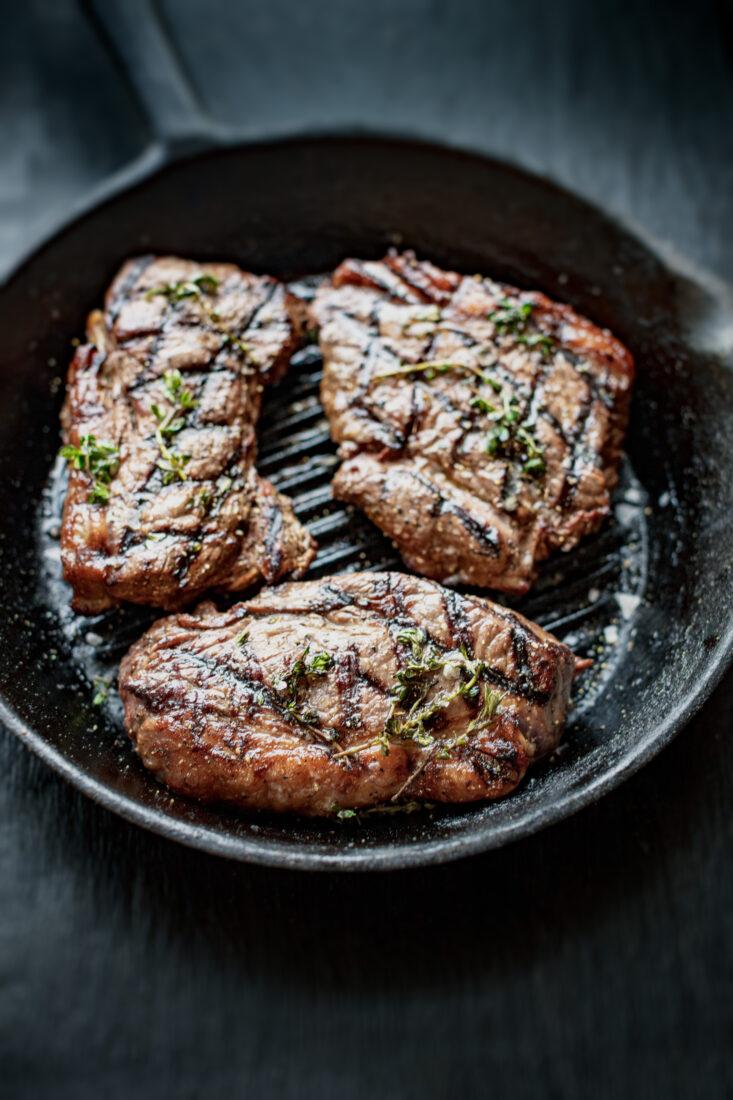 One of our most popular restaurant events is Steak Night. Usually once or twice a month, it's a firm favourite amongst regulars and books up super fast.
Rump steak cooked to perfection and a stack of thick cut chips with mushroom and tomato and a bottle of wine* for two people is £45 – with other menu options if you're not a fan of steak.
Early booking recommended.
For groups of 8 or more, or to find out more about our various private dining options, get in touch with our Events Team.
"As part of our luxury spa day we had a meal included at Wear Park Restaurant. As always it was absolutely beautiful. We have never had a bad meal here. Everything was cooked perfectly and tasted amazing. The staff are always friendly and very accommodating, my wife has a serious nut allergy so has to ask if menu items have any nuts in them. They will always offer to prepare the menu item without the nuts if she wants to have that. We will definitely go back, again and again."
"Everything about the Wear Park Restaurant was amazing. Had a fantastic meal in lovely surroundings. Thank you."
"We turned up on a rainy day hoping they would have a table free for an afternoon tea. The staff there were lovely, very welcoming and attentive. The food was delicious!!"
"Very cool place, good food and great service"
"Just returned from a very pleasant experience here. Super food, nice atmosphere, wonderful service, good value Great for a special occasion, very much an "old school" restaurant, based on attentive service, very professional staff. Well presented dishes, freshly prepared by chef's who obviously care about what they do. Well done! 👍👏."
"Had a wonderful time at Wear Park Restaurant. We looked around Exeter for Afternoon Tea and this looked promising. Plenty of parking when we arrived. The staff were very friendly on arrival and throughout the visit making us feel very welcome. We opted for Fizz Afternoon Tea for 2 people @ £32. You have the choice of Prosecco or Gin & Tonic. Each plate on the tower was delicious. Sandwiches, Scones with cream & jam (in that order please here in Devon) ending with the selection of cakes. On top of the fizz you'll also get a choice of tea or coffee to finish off your treats. I was surprised how full I was when we finished. We would definitely recommend a visit and will be making a repeat trip in the future. Many thanks to the wonder staff."