Ladies' Pro Am round-up by Darren Everett, Director of Golf
The 13th Annual Ladies Pro-am took place on Tuesday 11th May with 32 teams from across the West Region competing in what is one of the most popular events on the circuit. With the golf course in superb condition it promised to be a great day for all the players.
As we know, the one thing that nobody is able to control is the weather. In the afternoon the heavens opened and a monumental amount of rain fell on the course. With the course flooding and the prospect of lightning all players got taken off the course and the tournament was suspended. Thankfully after a 90 minute delay the players headed back out into sunshine and managed to finish their rounds off.
Winning the professional individual event with 2 under par 67's were Mark Arrowsmith from St Enodoc and James Ruth from China Fleet. In the team event Chris Gill from Newquay took the top spot with his team of ladies. Runners up were the team from Downes Crediton led by professional Barry Austin. In 3rd place was the Exeter Golf and Country Club Ladies Captain Lizzie Whites team led by home professional Darren Everett with home assistant Ryan Pope bringing his team home in 4th place.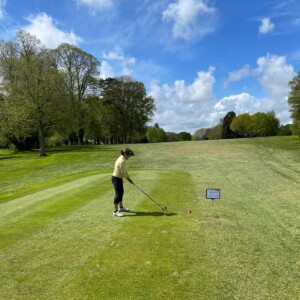 Lizzie said, "I am delighted to be able to report that we raised £2881.00 for our chosen charity Exeter YMCA.  2021 marks their 175th year and they are currently funding various accommodation projects in Exeter, to provide vital homes for local young people so it's great to have such a great start to our contributions this year.
"We had a superbly displayed raffle table with generously donated prizes. Thank you to all those who contributed so willingly. Thank you also for cash donations on the day which were gratefully received.
A big thanks goes to our Director of Golf, Darren Everett, and to Joy Champion, Jenny Outhwaite and Jacqui Harris, our Ladies Pro Am Committee for all their hard work and commitment throughout, making this event such a success."
The Ladies' Pro Am is the second ladies' golf event of the year, with more planned over the next few months. Lizzie thanked the club team including Chris Jones, General Manager, Golf Events Co-ordinator Lisa Newbery, Head Chef Adam Little and all of their teams. She congratulated Golf Course Manager, John Parr and the Greenkeepers for preparing and presenting the course in such excellent condition, which was noted by the golfers on the day.
Lizzie continued, "My final thanks go to all our sponsors, starters, ball spotters, cake makers, and many other helpers on the day and to all the competitors without whom this event could not take place."