Each year the men's and ladies' Golf Captains select a charity to support during their captaincy year. This year's Golf Captains, Charles Kislingbury and Lizzie White, have selected the YMCA Exeter and have fundraising events planned throughout 2021.
Two of the major events planned are the Ladies' Pro Am on Tuesday 11th May and the Men's Pro Am on Friday 11th June.
YMCA Exeter provides essential support for young people in times of need by way of supported accommodation, health and well-bring and life skills.
YMCA Exeter is currently fundraising towards another housing development – Sidwell Studios on Sidwell Street which launched in February this year. They plan to convert an abandoned warehouse into 26 affordable self-contained apartments to help address the lack of affordable one-bed accommodation for local young people – part of the current Exeter housing crisis.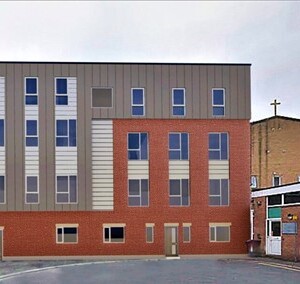 Hilary Bush, the YMCA's Events and Partnerships Coordinator explained more about the history, aims and objectives of the YMCA Exeter, which was founded in 1846.
The YMCA (Young Men's Christian Association) was established in 1844 by a group of 12 friends, as a refuge for Bible study and prayer for young men seeking escape from the hazards of life on the streets of London.
Exeter philanthropist, John Dinham, caught the vision of the national YMCA movement and in 1846 created a meeting place on Gandy Street with the purpose of sharing God's love by creating communities where everyone can belong, contribute and thrive.
Every year YMCA Exeter provides supported accommodation for over 100 young people and helps many more find accommodation that is suitable to them. There are three stages of accommodation across the city where young people can become part of a family.
Stage 1 is a 31-bedroom residential centre in St David's Hill and is the entry point for all young people
Stage 2 is a set of four shared houses in Newcourt area of the City, located near Ikea and the Sandy Park Stadium
Stage 3 is a five-bedroom house in Stoke Hill
Stage 4 is a number of two-bedroom shared houses in Exwick – plus the new development on Sidwell Street from 2022.
Each stage offers a varying degree of one to one and peer support and gives young people, between the ages of 18-29, the opportunity to make a fresh start. They can also accommodate 16–17-year-olds via a referral through Social Services. The accommodation is specifically for young people who are coming out of homelessness and want support to move forward until such a time they can
Some of the residents have been sleeping rough and others may have been sofa surfing or living in a tent or car. YMCA isn't just a place to stay though, their Link Workers support residents during their stay so they can develop their own potential mentally, physically and spiritually.
The kind of well-being support offered by the YMCA extends to finding a GP, counselling, employment advice, emotional and physical health, managing debt, money advice, managing disabilities and understanding more about maintaining accommodation.
Charles and Lizzie are looking forward to the 2021 events and hope to raise funds to help towards this new project.
"We are delighted to have chosen the YMCA Exeter and hope that the golf members at Exeter Golf and Country Club will be able to support our chosen charity with our many fundraising efforts throughout the golfing season."