The 2023 ELEMIS Christmas gift sets have arrived at Wear Park Spa, ready for the start of Christmas shopping season. 
The Wear Park Spa team have hand-selected a range of gift sets to make sure there's something for every budget – and importantly, every skin type. 
As well as being the perfect Christmas gifts, they are also perfect for ELEMIS addicts who want a great value way to buy their usual skincare, as each collection is priced much lower than the value of the products inside. Take the ELEMIS Ultimate Pro-Collagen Gift, it has a value of £405, but a price tag of just £235! 
With gift vouchers also available to spend on spa treatments, spa days or even afternoon tea in Wear Park Restaurant, you can guarantee to find a Christmas present for everyone on your Christmas list.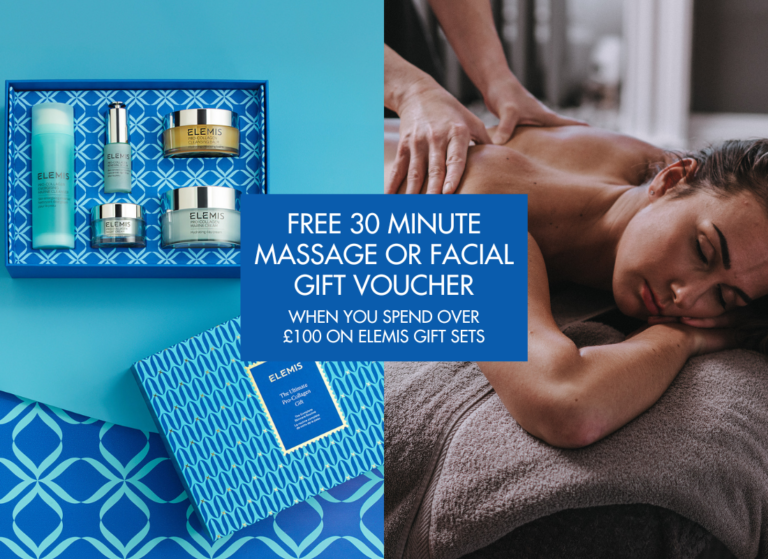 ELEMIS Christmas Gift Sets
The most iconic and luxurious skin and body formulations by ELEMIS, housed in covetable gift boxes your loved ones will adore. Whoever you're buying for this holiday season, there's something for everyone…
ELEMIS Mayfair No.9 Hand and Body Duo
£48 (worth £58)
Elevate your wash basin with this hand and body duo. Featuring a spa-like aromatic, these 2-in-1 products cleanse and moisturise while bringing a touch of elegance to your bathroom. 
ELEMIS The Ultimate Pro-Collagen Gift
£235 (worth £405)
For the best of our hero anti-ageing Pro-Collagen range, opt for our five-piece set to upgrade your skincare from morning to night. This iconic collection of bestselling firming and hydrating formulas has the ultimate ELEMIS seal of approval, delivering award-winning anti-ageing results within a luxurious routine. Start with a double cleanse before layering hydration for your healthiest, most radiant skin ever.
ELEMIS The Ultra Smart Pro-Collagen Day and Night Stars
£65 (worth £106)
This ULTRA SMART Pro-Collagen pairing features innovative systems to deliver powerful anti-ageing actives that rebuild your skin barrier, improve resilience, deeply hydrate and smooth wrinkles.
ELEMIS Pro-Collagen Trio
£90 (worth £144)
Featuring our hero hydration ingredient Padina Pavonica, this daily trio of Pro-Collagen essentials reveals radiant skin using a blend of powerful natural plant extracts to smooth, soften and hydrate.
ELEMIS The Pro-Collagen Perfect Duo
£135 (worth £202)
For a gift they're guaranteed to love, look no further than this iconic pair of anti-ageing hydration heroes. Featuring an award-winning day cream and an intensive night cream infused with our hero marine extract, Padina Pavonica, this clinically proven* power couple keeps skin plump, firm and smooth around the clock.
ELEMIS From Frangipani With Love
£45 (worth £58)
Give the gift of true indulgence with our luxuriously hydrating shower and body duo. Together, they create harmony and peace for the mind, with delicate aromatic and intensely moisturizing textures to provide hydration, softness and comfort to freshly cleansed skin.
ELEMIS The Prep, Prime and Glow Gift
£65 (worth £112)
Take your skincare to the next level and awaken your true radiance with our cleansing, exfoliating and hydrating set. Including our hydrating and anti-ageing Pro-Collagen Naked Cleansing Balm, exfoliating Dynamic Resurfacing duo and nourishing Superfood moisturisers, this collection offers a customer-favourite routine. Accompanied by an exclusive ELEMIS travel bag to store your beauty favourites.
ELEMIS The Gift of Pro-Collagen Icons
£95 (worth £122)
Upgrade their skincare routine this holiday season with our award-winning cleansing and moisturising duo. Featuring our iconic 3-in-1 cleanser and our award-winning day cream, this pair of Pro-Collagen must-haves reveal a firm, youthful-looking radiance.
ELEMIS The Jet Setters Edit
£65 (worth £126)
This travel-approved head-to-toe luxury set is the ultimate gift for jetsetters. Featuring six advanced face and body formulas within an exclusive ELEMIS travel bag, this collection includes everything you need to nourish your skin away from home.
Gift Vouchers
Buy online, at Wear Park Spa or Reception
From spa treatments and spa days to monetary vouchers to spend on their favourite products, or even for an afternoon tea in Wear Park Restaurant, we have the perfect voucher for every one. Ask at Reception or at Wear Park Spa to buy in person, or click the link below to buy online and we can even deliver direct by post or email.